We Remember: Honoring the Legacy of Reverend Eddie K. Edwards
Presented by Dr. Mary Edwards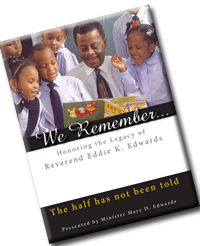 The Half Has Not Been Told...

A collection of 55 heart­-warming tributes to the late Rev. Eddie K. Edwards, founder of Joy of Jesus Ministries in Detroit, Michigan.
Among many other commendations, Rev. Edwards received the 107th Point of Light Award from former President George H. W. Bush for his community service outreach to the Ravendale Community and the city of Detroit.
This Book of Remembrance has been published by the widow of Rev. Edwards, Dr. Mary Darlene Edwards, his wife of 21 years. Proceeds will go to support the ongoing work and writings of Minister Edwards, as she works diligently to continue the family's legacy and keep Rev. Edwards' memory alive.
$25.00
(includes shipping)