BULLYING IS NOT COOL
by Angel Mykel Edwards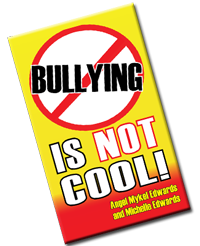 This story is about twins: a brother named Quinn and sister named Gwen. They both like to bully kids who they feel are different. We feel that sometimes bullies get away with bullying, and it seems like they do not get in trouble. Although I love to write, I really did not want to write about bullying because it is horrible. But my mom inspired me to write about bullying to help kids believe that through prayer all things are possible. We wrote this story together. Bullying is very serious and it can affect kids throughout their lives. So, if you see or experience bullying in school, do not be scared to report it to your teacher, principal, mother, father, counselor, pastor or someone you can trust.

Angel Mykel Edwards is a young and inspired writer who is 11 years old. Her stories are about some of her life experiences, the challenges children face and how to resolve them based upon the Word of God.

The purpose of her writing is to show the world how she loves God and her family. When you love God and place him in your heart, you can do all things. God will hold your hand and guide you to become successful in your life. Angel's stories are inspirational, funny, interesting, encouraging and rewarding to readers of all ages.

$6.95
(includes shipping)