"IT'S MY MONEY. AND I WANT IT NOW!" - By Dr. Mary Edwards

A few days ago God spoke to my heart these words:

"Some of my people have monies that are 'frozen.' They are frozen because there is something they must do to 'unfreeze' them. Thaw out the bread."

I always like for God to confirm that what I'm hearing is from him. This is what happened shortly after I heard His Voice.

Immediately, I went to my freezer and literally took out some frozen bread. I put a dollar bill around the bread (money wrapped around money!) with a rubber band. That same hour I received a phone call. One of my clients who didn't owe me money said, "I'm in your driveway. May I come in?" Without asking why I said, "Sure." She came in and handed me a check for $200.00." She said she wanted to be sure she had reserved some of my time to work on her book in the near future. Needless to say, I rejoiced!

God gave the children of Israel manna every day. Every day I ask God for my daily bread "money." I expect to receive money every day. And I do.

There was a time I would settle for crumbs. God told me that I didn't ask for enough. My faith has increased. I have moved from crumbs to a slice to a loaf. Now, I've asked God for a BAKERY. How sweet it is! I see myself rolling in dough! Just call me a "Holy Roller in Dough!"

Every day I say: "IT'S MY MONEY. AND I WANT IT NOW!"

REPEAT AFTER ME, "IT'S MY MONEY AND I WANT IT NOW!"
---
Taking It To Another Level - By Dr. Mary Edwards
Changes in technology, and particularly information technologies, are making educated and skilled labor more valuable, and unskilled labor less so. More stress needs to be put on upgrading the capacity to learn. Simply put, literacy has become more critical than ever before. Even as I type this document, I can see how the computer has replaced one of my favorite tools: the typewriter. Gone are the days of the correction tapes once used to erase errors. Now we simply use the delete key. Someone was thinking. Someone was writing manuals. And many more people need to know how to read them.

According to a National Endowment for the Arts survey released on July 8, 2004, "Literary reading is in dramatic decline with fewer then half of Americans now reading literature." Reading at Risk: A Survey of Literary Reading in America reports drops in all groups studied, with the steepest rate of decline. 28% - occurring in the youngest age groups. We are living in a knowledge-based economy. These are frightening reports.

Sixty years ago, at the age of 8, the book bug bit me. I'm happy to report that I've never recovered. For the past 30 plus years, both reading and writing have been critical to my leadership roles among writers and widows. I am determined to take my passion to another level in this knowledge-based economy. My goals are to motivate and encourage children not to just read and write, but to WRITE BOOKS.

In my third grade, the teacher gave the class a writing assignment: Write about a dog that got lost and found. We were to use our creative imaginations. I finished quickly. The teacher thought I was having trouble. She was surprised when I told her that I was finished. After reading my paper, she said these unforgettable words, "My, you have a creative imagination. And you write so fast."

Barely in my teens, I lost my virginity and became pregnant. Everyone was shocked. "What a shame. You are an honor roll student. Now, all you will be is just another negative welfare statistic," said the school officials. My thought was, "No. I'm better than that."

At that point, I began writing the script for my life - not the way it was, but the way I wanted it to be. I graduated with honors at the age of 16, with a three-year-old son.

Years went by. There were many detours, but I kept writing, editing the script along the way.

After a failed, 20-year first marriage, I was blessed in 1982 to marry the late Rev. Eddie K. Edwards, founder of Joy of Jesus Ministries on the east side of Detroit. The ministry was founded in 1976. Their mission was to reach out to help develop underprivileged youth into responsible citizens who could make a meaningful contribution to society.

The ministry was five years old when Rev. Edwards and I married. Joy of Jesus' growth escalated. I continued to write, but now it was to raise monies for the ministry as Development Director. Millions of dollars were raised to execute various programs throughout the Ravendale community where we lived and worked. We were honored with the 107th Point of Light Award from former President George W. Bush, Sr. for our youth and community development work.

In 1990, I wrote the proposal that gained us a $50,000 Family Approach to Crime and Treatment (F.A.C.T.) grant from United Community Services to start our family life center. UCS honored us as their most distinguished program out of 10 who were funded. Thus, we were awarded another $50,000 to carry out a second successful year. I served as the initial director of this program.

In 1998, I retired from Joy of Jesus. Since then, I've written three books and my autobiography, Born Grown, founded a writers' guild, and launched a widows' ministry.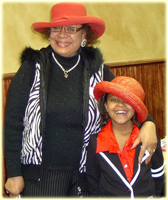 In 2004, my story about being a teen mother, never being on welfare, and receiving numerous awards, appeared in the first Chicken Soup for the African American Soul. I was the only Detroiter in the book. So, where do I go from here?

As I look back over the years, I see how writing has had a powerful impact on my life. When I'm asked, "How did you manage to overcome the many obstacles associated with being a teen mother?" I share how I made a decision not to accept the doomsday prophecy about being a negative welfare statistic. Instead, I wrote a positive vision for my life, which helped build my self esteem and enabled me to see the light at the end of the tunnel. Reading books from the library gave me the insight I needed to see an alternative lifestyle to the life I was living.

Understanding the importance of reading and writing, I want to work with schools and other youth organization. My attention would also be directed towards teen girls and teen mothers.

My eight-year-old granddaughter Angel has just finished her first book, Angel Food For Thought.

Recently, a door of opportunity has been opened for us to be involved in a reading project at numerous elementary schools in Southfield, Michigan. I strongly believe that after reading to these children, they will be inspired, motivated, and eager to write a book.

I welcome the opportunity to continue, as well as expand, this reading program, mentor these young writers, and encourage them to write books, thereby equipping them for more successful lives in the years to come.
---
"The Scrolls Are Being Opened to the Ready Writer" - Theresa Phillips
The Called and Ready Writers - Celebrate 10th Anniversary

"My heart is inditing a good matter: I speak of the things which I have made touching the king: my tongue is the pen of a ready writer."—Psalm 45:1

While driving, I saw a flash in the sky. I looked up and saw a huge cloud shaped like a quill—I saw a perfect feather and tip...I was stunned. I was in awe. I began to think, I wonder, what the angels are writing? I wonder what is being written? Is a record being taken? What have I done? So much went through my mind at that moment. That is what happens when Holy Spirit is moving...you react.

The WORD was on my mind. Just words. I felt a slight panic. What is it, Lord?! Lots of thoughts flooded my mind with great anticipation, so I pressed in to that moment with great fervor.
"Let us acknowledge the LORD; let us press on to acknowledge Him..."—Hosea 6:3

Then I saw in the spirit, a high mountain. On the top of that mountain was a man dressed in clothes of long ago. I gasped..he is from the Ancient of Days! I just knew it. Who was he? He was writing on parchment paper; he had a scroll. My heart leapt inside, and I knew something was being released.

He, the Lord, was speaking to me, "It IS time. Time, time, time, time...The scrolls of the ancient ones are being opened to the ready reader...scrolls of Law, Righteousness, and His total will and essence. Write, write, write, write!"

"When he takes the throne of his kingdom, he is to write for himself on a scroll a copy of this law, taken from that of the priests," (was he a priest I saw?) "who are Levites. It is to be with him, and he is to read it all the days of his life so that he may learn to revere the LORD his God and follow carefully all the words of this law and these decrees."—Deuteronomy 17:18-19

The Pens of Ready Writers are Going to Write as Never Before!

They will write:

• The words of plenty during famine.
• The words of hope during despair.
• The words of healing during mass illness.
• The words of grace during unease.
• The words of peace during battles.
• The words of love during times of hate.

Then I knew: the writer is being released. The prophetic writer, who will prophesy from the realms of Heaven, the word of Heaven—looking for that great and beautiful day. Even memories of the evangelist, speaking of that day of the coming of the Lord, will emerge...but they will be different. They will speak of glorious encounters with GOD.

Heaven to Earth, Heaven to Earth, Heaven to Earth, I saw the quill writing across the sky.

The Quill Turned Into a Paintbrush

"And He carried me away in the Spirit to a mountain great and high, and showed me the Holy City, Jerusalem, coming down out of Heaven from God."—Revelation 21:10

As I continued to pray and press in to know HIM, to seek what He is doing, I saw the quill turn into a paintbrush (the sky was ablaze with magnificent color) and paint glorious star-studded skies and plush green grass and trees filled with all the seasons of the earth, all blooming at once. The scene was approachable and filled with light and the light became life—it was abundant!

"The heavens declare the glory of God; and the firmament sheweth His handywork."—Psalm 19:1

Then I heard again, "It's time—TIME, TIME, TIME of the creative writer; TIME, TIME, TIME of painters of mighty words. Even in song, WRITE, WRITE, WRITE. Be a ready writer of the GOOD NEWS! The paintbrush will write across the heavens and declare the beauty of the Lord. Look up, O Church! Look Up, O lost! I will call upon the gifts of the artist in the days of darkness."



"...my tongue is the pen of a ready writer."—Psalm 45:1





Theresa Phillips




Praise Ministries International
---
WOMAN OF THE WIND - By Jennifer Worthy
Dedicated to Dr. Mary Darlene Edwards - On her Birthday (October 11, 2007)
Brave woman of the wind
Light and swift,
Where did you learn
To fly so gracefully like this?

Soaring like the majestic eagles
To thrilling heights unknown.
Accelerating quickly as you take off,
Amidst tumulus winds of adversity
Which carry you far above clouds
thick like homemade gravy.

Your broad wings have been strengthened
By stormy winds and currents
meant to plummet you to the Earth.
Yet, you held your ground
and ascended even higher!

You effortlessly ride on
the undercurrents of conflict
Which allow you to land
In small crevices on mountain ridges
Where you can soak in the radiant
Rays of sunlight undimmed by air pollution

Your eyes are razor sharp and capable
Of perceiving gifts afar off
Nurturing and mothering
Those who follow you
and desire to ascend to
Heavenly places like you.

You are a dauntless woman of the wind.
Thank you for
the faithful examples you give.
Wise woman of the wind,
Who hears the sound of silence
Atop the glorious mountaintops
And can carry many a burden.
Some may wonder
where did you learn
to soar like that?
But those you have touched
Know that you are mighty in God.

Copyright October 2007
---
"MANY BOOKS, SONGS, SCREENPLAYS AND ARTWORK THAT WERE REJECTED--WILL NOW BE RELEASED!"

Prophecy given through Bill Yount on November 14, 2007


Psalm 102:13, "Thou shalt arise and have mercy upon Zion: for the time to favor her, yea, the set time has come."

I saw angels scavenging through trash cans, old filing cabinets and dusty warehouses, picking up rejected manuscripts of books, songs, screenplays and artwork, and then declaring, "THESE HAVE BEEN WRITTEN AND CREATED AHEAD OF THEIR TIME--BUT THEIR TIME IS NOW!"

Ahead of Your Time?

Have you written a book, a song, a screenplay or have drawn artwork and thought that something was holding it back or thought it was seemingly unnoticed by man? I want to encourage you--you may have had an angel hiding what God has given you to do--keeping it for its divine timing. You may have written or created a divine project that was not meant to be released in your time frame, but I am sensing God's timing for many of His overlooked creations--IS NOW!

The waiting and the aging of these creations which seemingly brought "death" to these dreams have only caused God's anointing to increase greater upon them. Through man's "rejecting," God is now "injecting" them with resurrection power!

You May Have a Best Seller!

I saw angels checking out books and manuscripts that have lain dormant in authors basements; and these angels are now proclaiming, "THERE'S A 'BEST SELLER' IN THAT CELLAR!"

I saw "publishing" angels sitting on stacks of books that were written ahead of their time, but these angels are now arising! These authors were strongly anointed as those who were seemingly "born out of season" and their divine projects were ahead of their time, but--their time has now come to be published and to be heard abroad.

Going to High Places

Some writings will ultimately end up in kings' palaces, as well as the prisons and rescue missions of the earth, for kings sit in both places. World leaders will find these divine writings in their laps delivered by the hands of "dignitary" angels. Some rejected and forgotten artwork will now be adorning the walls of government buildings and the palaces of world leaders!

I saw angels picking up discarded forms of divine artwork from the storage rooms of art stores and closets. These artworks are from original artists who have given up hopes and dreams of their artwork which God had called them to do. These same paintings and forms of prophetic artwork are now finding their way into the halls of justice to hang on the walls and will prophesy into the governments of the world. Some artwork have the address of the "Oval Office of the President of the United States" written on them, and some are also destined to the hallways of the White House.

Other paintings and artwork will find their way even into Middle East palaces to adorn their walls with justice and help break the powers of darkness off of the minds of world leaders who assemble in these renowned palaces in the earth. Some of the most profound artwork are coming from the prison cells of prisoners and will be found in mansions of the richest men in the world.

Multiple Births

Some authors, whose difficult projects have given them great labor pains, will discover that there is more than one dream in their womb! I sense some novels and screenplays that have taken so long and have had great difficulty in finishing, have God's timing in them after all. The patient labor of these projects has only increased the size of their destiny and having been carried full term--are now nearing God's delivery room.

With surprise, some authors will give birth unexpectedly to twins--a "novel" and a "movie!" From trash cans to theater screens, from filing cabinets to governmental cabinets, and from the warehouse to the White House--DEAD DREAMS ARE RISING!




Bill Yount
Blowing the Shofar Ministries
Email: theshofarhasblown@juno.com



Permission is granted (and you are also encouraged) to reprint these articles in hard copy form, as well as sending them to your own email lists and posting them on your own websites. We ask only that you keep ElijahList website, email contact info, and author contact information intact.
ElijahList Publications - 310 2nd Ave SE, Albany, OR 97321 - www.elijahlist.com - email: info@elijahlist.net - Phone 1-541-926-3250