In 2007, Dr. Mary Edwards wrote her autobiography, Born Grown. She shares with the reader how, at the age of 13, she became a mother the same day she lost her virginity. The school was horrified. Edwards was an honor roll student when this happened. The school predicted that now she would become just another negative welfare statistic. But God had a different plan.
At the age of 33, Edwards accepted Jesus Christ into her life. He changed man's doomsday prophecy for her into His divine destiny. Indeed, she has been on many rolls, but not the welfare rolls. Instead, she has received recognition from her city, county, governor, and even the President of The United States for her community work, including that of establishing programs to get mothers off the welfare rolls.
If you ask Edwards how she defied the odds, she will tell you that the day she heard the indictment against her she said within herself, "No. I'm better than that." At that point, she began to write the script for her life, not the way it was, but the way she wanted it to be. She gives God all the glory! She truly knows that without Him she can do nothing.
She is the co-founder of Joy of Jesus Ministries in Detroit; founder of Widows With Wisdom and The Called and Ready Writers.
Dr. Mary Edwards resides in Detroit and attends New Prospect MBC, Pastor Wilma R. Johnson. She is a mother, grandmother, great grandmother and the widow of the esteemed Reverend Eddie K. Edwards.
Organizations
Joy of Jesus Ministries, co-founder along with Rev. Eddie Edwards

His Lovely Wife Ministries, Founder 1998

Widows With Wisdom Ministries, Founder, 2004

The Called and Ready Writers Ministry, Founder, 1999

M.E.D.I.C. Ministries, Founder, 2003
Awards and Recognition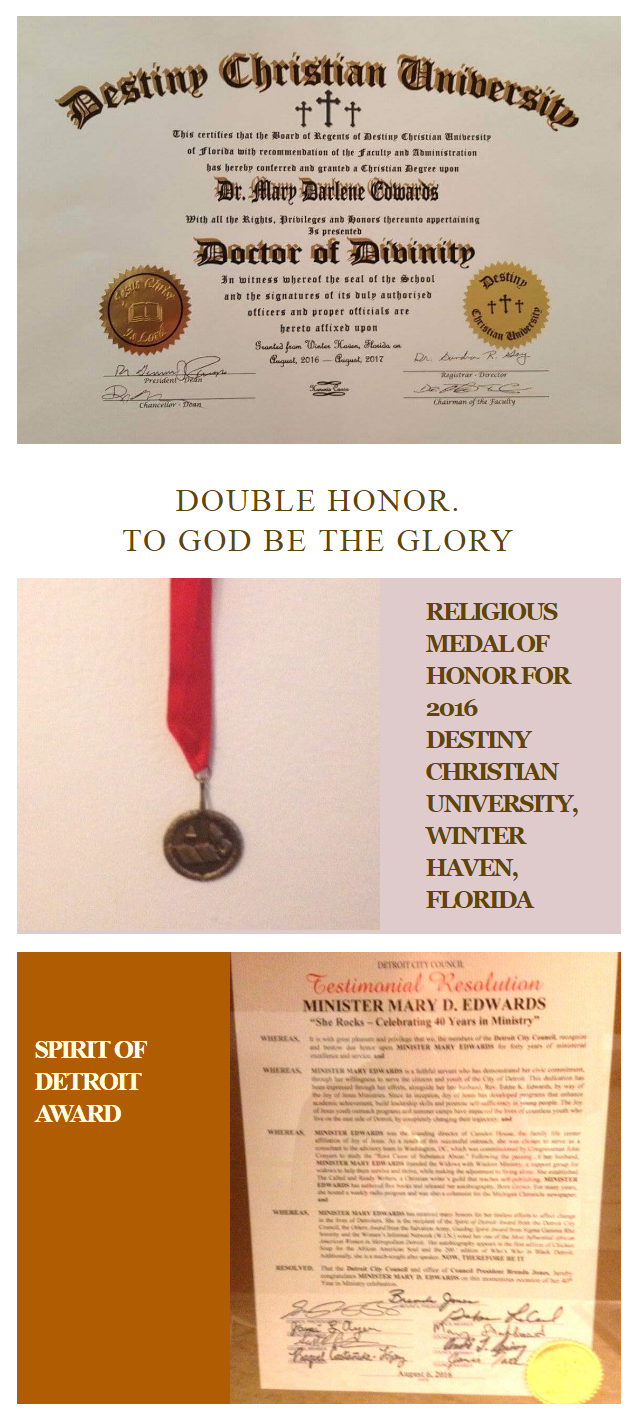 "Who's Who in Black Detroit" 2009

"Who's Who in Black Detroit" 2007

Guiding Spirit Award 2007 Sigma Gamma Rho Society-Michigan Chapter

"Others" Award. Salvation Army. One of the highest honors given by the Army

"One of the Most Influential African American Women in Metropolitan Detroit." 2002 Women's Informal Network

107th Point of Light Award 1990 Presidential Award. Revitalization in the Ravendale Community on the eastside of Detroit.
Publications
Born Grown, 2007 Release Autobiography

Chicken Soup for the African America 2004. The only Contributing Detroiter in the first edition of the series.

Frequent on-line magazine contributor for Christian publications.

Featured in the March 2008 issue of Black Enterprise magazine
Professional
Consultant for study conducted on Capital Hill: "The Root Cause of Substance Abuse"
Columnist and Freelance writer, Michigan Chronicle/Michigan Front Page, top-ranked black-owned weekly newspaper

Book Coach

Mentor to Many

International Speaker

Radio Show host for: "Ask the Pastor's Wife."

Eureka Fellows Program 1990
Personal

Mother, Grandmother and Great-Grandmother.

Dual citizenship: US and Canada

Spiritually ordained in 1976. Officially ordained in 1978.

Above all, Dr. Mary Edwards has been a born-again, spirit filled believer since 1976. She believes in leaving a legacy behind.

Widow of the esteemed community activist Rev. Eddie K. Edwards, founder of Joy of Jesus Ministries. Rev. Edwards was a veteran community organizer with 30 years of experience at the time of his death.